West Virginia Senator Joe Manchin alluded to a presidential run in the 2024 election on Sunday while also criticizing President Joe Biden for being pulled to the "extreme left."
Manchin's announcement that he will not seek reelection to the Senate in 2024 earlier this month has sparked speculation that the Democrat might run for president, either challenging Biden for the Democratic nomination or running as a third-party candidate. In addition, Manchin has previously attended events hosted by No Labels, a centrist political group that has reportedly mulled running a moderate candidate to challenge the eventual Democratic and Republican candidates. Political observers, meanwhile, have also long viewed Manchin, a centrist who often bucked his party on key legislation, as a potential No Labels contender.
While speaking on Sunday's edition of WABC 77 AM's The Cats Roundtable with John Catsimatidis, Manchin leaned into his view as a centrist as he discussed his decision to not run for reelection, stating that the politics in Washington, D.C., has become divided even further and he plans to instead "mobilize the radical middle."
"Washington is divided and wants you and I and the rest of America to be divided because it is a better business model for them. I came to the conclusion I'm not going to change it within so I've decided to go around and see if I can mobilize the radical middle," Manchin said.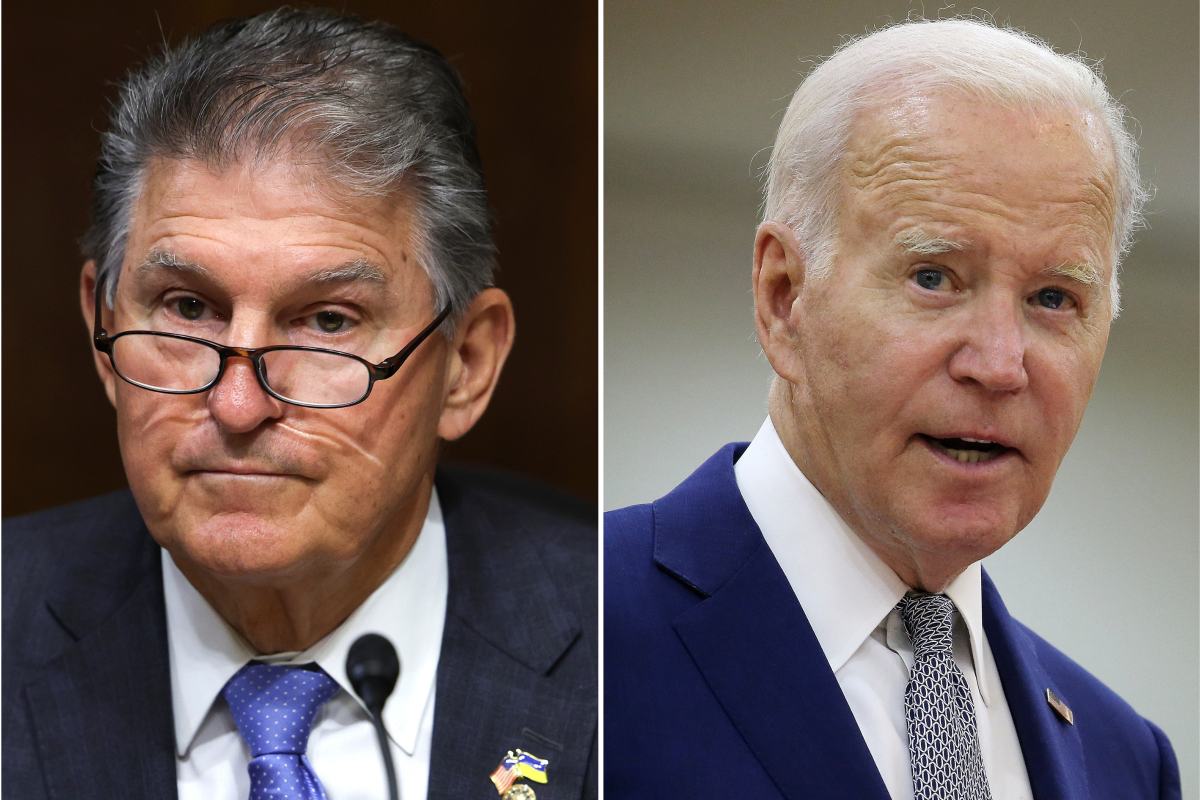 The senator then criticized Biden for being pulled to the "extreme left."
"Joe Biden has been pulled so far to the left, the extreme left as far as liberal. Makes no sense at all, not the person we thought was going to bring the country together. So we are in a heck of a mess here, we've got to bring people together and have got to demand more responsibility for uniting our country," Manchin added.
Newsweek has reached out to Manchin and Biden via email for comment
Manchin also took aim at former President Donald Trump, who is the frontrunner for the 2024 Republican presidential nomination, noting that he is the extreme right example.
"Donald Trump is taking it to a level that he has normalized this visceral hatred. He wants to be elected again to use the office and weaponize it for revenge. He believes the only fair election is the one he won…that's not who we are as a country," Manchin said.
Newsweek has also reached out to Trump via email for comment.
Manchin's remarks come after a Fox News poll released Thursday showed that Manchin might be the Democrat with the greatest chance of beating Trump.
The hypothetical polling pit Trump against several Democrats who have been named as potential presidential candidates—Biden, Manchin, Vice President Kamala Harris, Michigan Governor Gretchen Whitmer and California Governor Gavin Newsom. The poll surveyed 1,001 registered voters from November 10 to 13.
In that matchup, 47 percent of voters said they would vote for Trump, while 46 percent said they would support Manchin.
Although, none of the candidates included in the poll have announced plans to challenge Biden for the party's nomination. Author Marianne Williamson and Representative Dean Phillips of Minnesota are the only two Democrats to announce campaigns, but have polled far behind Biden in most polls. In addition, Manchin told NBC's Meet the Press on Wednesday he would "absolutely" consider running for president.
Uncommon Knowledge
Newsweek is committed to challenging conventional wisdom and finding connections in the search for common ground.
Newsweek is committed to challenging conventional wisdom and finding connections in the search for common ground.