Former First Lady Rosalynn Carter's death on Sunday sparked an outpouring of reactions, with President Joe Biden and former President Donald Trump, among countless others, paying tribute.
Numerous people hailed Rosalynn as a "champion for equal rights," saying the former first lady was a vocal advocate for mental health, women's rights, and human rights.
Rosalynn died while in hospice care at her home in Plains, Georgia, according to her family. Her husband, former President Jimmy Carter, 99, has been in hospice care for several months. In May, The Carter Center announced that Rosalynn suffered from dementia.
"Rosalynn was my equal partner in everything I ever accomplished," former President Carter said in a statement released by The Carter Center on Sunday. "She gave me wise guidance and encouragement when I needed it. As long as Rosalynn was in the world, I always knew somebody loved and supported me."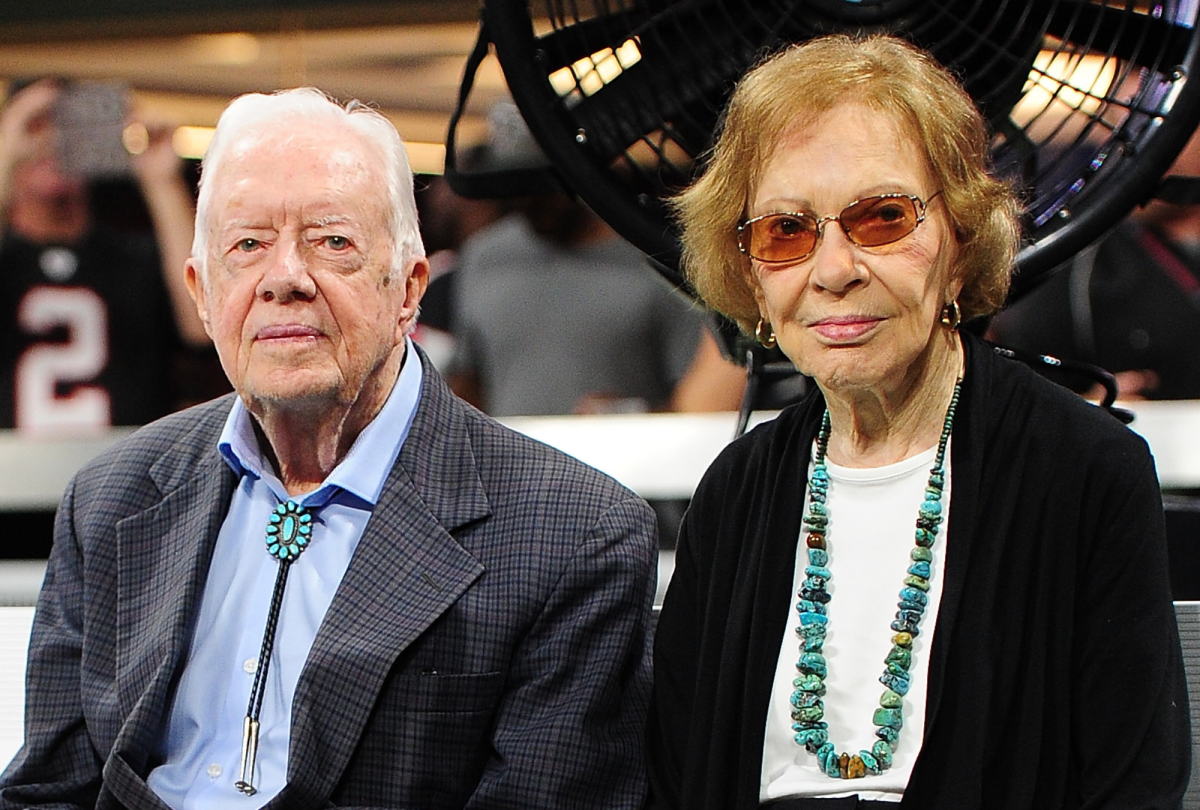 Newsweek reached out to The Carter Center via email for comment.
Tributes shared on social media mourning Rosalynn's loss highlighted her decades of advocacy and humanitarian work.
President Biden, in a joint statement with First Lady Jill Biden, said Rosalynn "did so much to address many of society's greatest needs."
"She was a champion for equal rights and opportunities for women and girls; an advocate for mental health and wellness for every person; and a supporter of the often unseen and uncompensated caregivers of our children, aging loved ones, and people with disabilities," the Bidens said in an online statement sent to Newsweek on Sunday night.
The president and first lady remembered their four decades of friendship with the Carters, noting Rosalynn's "hope, warmth and optimism."
The Bidens' statement also described the "deep love" between Rosalynn and Jimmy Carter as "the definition of partnership." Rosalynn was married to former President Carter for 77 years at the time of her passing.
President Biden also took to X, formerly Twitter, to mourn the loss of Rosalynn, describing her as an inspiration.
"First Lady Rosalynn Carter walked her own path, inspiring a nation and the world along the way," President Biden posted on X. "On behalf a grateful nation, we send our love to the entire Carter family and the countless people whose lives are better, fuller, and brighter because of Rosalynn Carter."
Former President Donald Trump eulogized Rosalynn in a post on his Truth Social platform, where he described her as a "devoted First Lady, a great humanitarian, a champion for mental health."
"Over a life spanning nearly a century, Rosalynn Carter earned the admiration and gratitude of our entire nation," Trump said in the Truth Social post. "From her days as a U.S. Navy spouse, to the Georgia Governor's Mansion, to her tenure as First Lady of the United States, and her later work at the Carter Center and volunteering with Habitat for Humanity, she leaves behind a legacy of extraordinary accomplishment and national service."
In a post on X, former First Lady Melania Trump remembered Rosalynn for her legacy, saying that she had a "servant's heart."
"Rosalynn Carter leaves behind a meaningful legacy not only as First Lady but as a wife and mother," Melania said in the X post. "We will always remember her servant's heart and devotion to her husband, family, and country. May she rest in peace."
Former President Barack Obama, resharing an X post by his wife, former First Lady Michelle Obama, said Rosalynn's life was an example of how legacies are measured by the "lives we touch."
Michelle said when her family was in the White House, Rosalynn would join her for lunch to offer advice on the role of first lady and always "a helping hand."
"She reminded me to make the role of First Lady my own, just like she did," Michelle said. "I'll always remain grateful for her support and her generosity."
Michelle said Rosalynn used her platform in "profoundly meaningful ways," praising her efforts to end the stigma against those struggling with their mental health and being a vocal champion for women's rights.
Former President George W. Bush and former First Lady Laura Bush said in a statement that Rosalynn was a woman of "dignity and strength."
"There was no greater advocate of President Carter, and their partnership set a wonderful example of loyalty and fidelity," the Bushs said in the statement that was posted to X. "She leaves behind an important legacy in her work to destigmatize mental health. We join our fellow citizens in sending our condolences to President Carter and their family."
Former President Bill Clinton, in a joint statement with former First Lady Hillary Clinton, said Rosalynn was a "committed champion of human dignity everywhere." The Clintons said they're grateful for their four decades of friendship with Rosalynn and her "extraordinary service to our nation and world."
The Clintons said Rosalynn was compassionate and a "committed champion of human dignity everywhere."
"Throughout her long, remarkable life, she was an unwavering voice for the overlooked and underrepresented," the Clintons' statement reads. "Thanks to her mental health advocacy, more people live with better care and less stigma. Because of her early leadership on childhood immunization, millions of Americans have grown up healthier. And through her decades of work at the Carter Center and with Habitat for Humanity, she spread hope, health, and democracy across the globe."
"Rosalynn Carter was the embodiment of a life lived with purpose. My and Hillary's full statement," President Clinton posted on X.
Rosalynn is survived by her husband, their children—Jack, Chip, Jeff, and Amy—as well as their 11 grandchildren and their 14 great-grandchildren.
"Besides being a loving mother and extraordinary First Lady, my mother was a great humanitarian in her own right," Chip Carter said. "Her life of service and compassion was an example for all Americans. She will be sorely missed not only by our family but by the many people who have better mental health care and access to resources for caregiving today."
Uncommon Knowledge
Newsweek is committed to challenging conventional wisdom and finding connections in the search for common ground.
Newsweek is committed to challenging conventional wisdom and finding connections in the search for common ground.