Michael Steele, the former chairman of the Republican National Committee (RNC), called for former President Donald Trump to be thrown in jail on Saturday over his repeated attacks on judges and court staff in his numerous ongoing court cases.
Trump, who is the frontrunner for the 2024 Republican presidential nomination, continues to face various legal troubles with trials at both the state and federal level, and has been civilly sued by New York Attorney General Letitia James for $250 million. In her lawsuit, James alleges that Trump, his adult sons, and top executives at The Trump Organization, conspired to increase his net worth by billions of dollars on financial statements provided to banks and insurers to make deals and secure loans.
In addition, the former president has been indicted in four separate cases: two brought by Department of Justice's (DOJ) special counsel Jack Smith, one by the Manhattan District Attorney Alvin Bragg, and another from Fulton County District Attorney Fani Willis in Georgia. Trump has denied any wrongdoing and has called the trials politically motivated. However, he has made repeated attacks on judges and court staff often taking to Truth Social to voice his stance, which has cost him to be issued gag orders.
Although Trump was issued a gag order on October 3 in his New York civil fraud trial by Judge Arthur Engoron, who is overseeing the case, that barred him from commenting about court personnel after he disparaged a law clerk on Truth Social, it was temporarily lifted Thursday by an appellate judge who raised free speech concerns.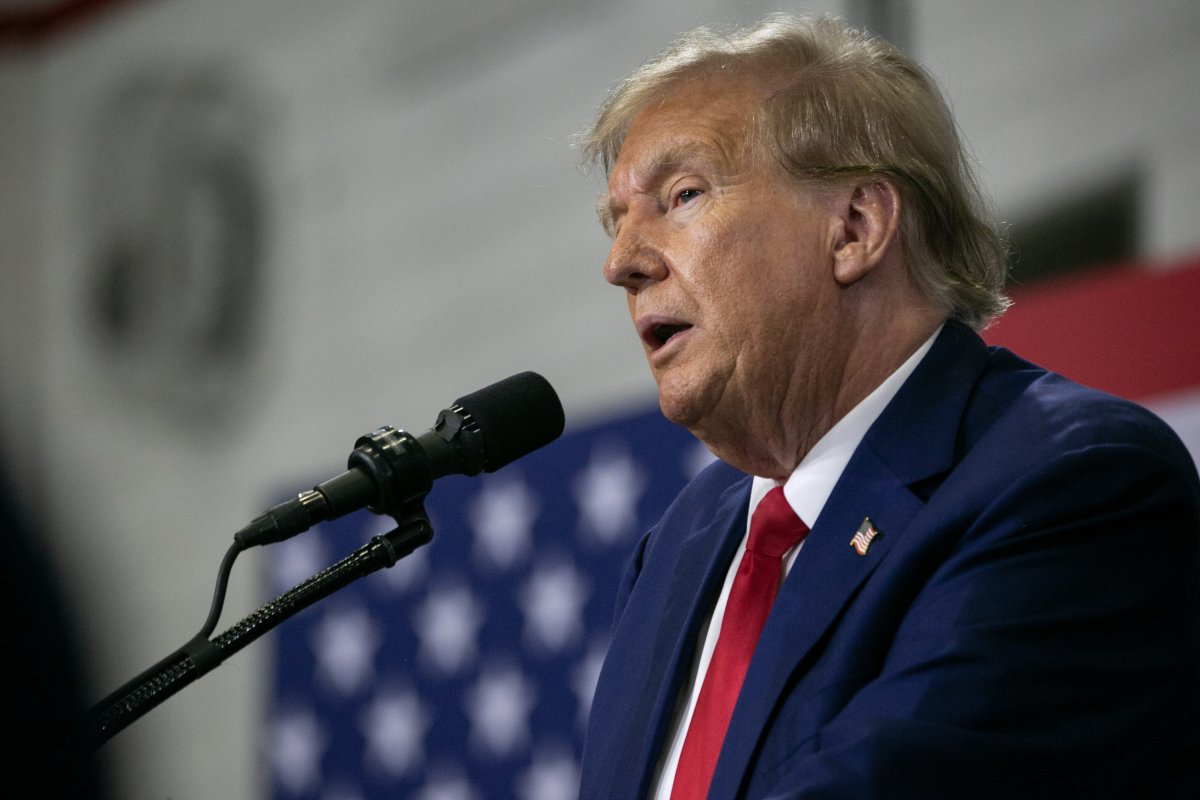 During Saturday's episode of MSNBC's Ayman, host Ayman Mohyeldin discussed Trump's attacks on court staff and asked Steele to discuss the danger of these attacks and the lifted gag order.
"It is enormously dangerous, I am shocked that we have allowed this to get this far. I'm just going to use my best analysis that I can give you at this point on this situation with Trump, and the attacks on the judges. Put his a** in jail. That's how you end it. That's how it stops," Steele said.
The former RNC chair added: "People will be mad, they will be upset. But there is no other person on this planet, certainly not in this country, who would be given the kind of grace that Donald Trump has been given to run his mouth the way he has—attacking clerks, attacking judges, attacking the prosecutors personally; threatening them."
Steele continued: "We've shown the evidence when he does that how his base responds. And so the system is getting pulverized from within by Trump, and is being pressed to the umpteenth corner it can go in trying to appease him, and allow him to be free while he is still behaving this way."
Newsweek has reached out to the Michael Steele Network and Trump via email for comment.
Meanwhile, Judge Tanya Chutkan who is overseeing Trump's federal case regarding his alleged attempt to overturn the 2020 election results, reimposed a narrow gag order last month that restricts what Trump can say about Smith's team and potential witnesses in the case.
Chutkan had originally lifted the gag order to allow Trump's lawyers time to prove why the former president's comments should not be restricted ahead of the federal trial, which is scheduled to begin in March 2024. Trump and his legal team have frequently argued that a gag order against a presidential candidate while they are embarking on a White House campaign is a violation of his First Amendment rights.
In a post on Truth Social following the decision, Trump criticized Chutkan, suggesting she should recuse herself from the case.
"I have just learned that the very Biased, Trump Hating Judge in D.C., who should have RECUSED herself due to her blatant and open loathing of your favorite President, ME, has reimposed a GAG ORDER which will put me at a disadvantage against my prosecutorial and political opponents," he wrote on Truth Social.
This is not the first time Trump's attacks have been under fire as some were concerned what the former president's supporters would do after he reposted to his Truth Social account on Tuesday a message calling for a citizen's arrest of Engoron and James.
Former U.S Attorney Barbara McQuade previously told Newsweek in a statement that this move is "incredibly reckless" of Trump, explaining that someone can view this post and take violent action against James and Engoron.
"Trump's statement is incredibly reckless in light of the history of people responding to his dangerous rhetoric. Someone could take violent action in response," McQuade said.
Court system lawyer Lisa Evans said Engoron and his staff have received hundreds of threatening and antisemitic phone calls and letters since the trial began in October, the Associated Press reported Thursday. Evans blamed Trump's comments about Engoron and his clerk, Allison Greenfield, for amplifying his supporters' anger toward them.
However on Thursday, a state intermediate appeals court, headed by Judge David Friedman, granted a temporary stay on Engoron's gag order effectively suspending it due to the "constitutional and statutory rights at issue." The judge also questioned Engoron's authority to police what Trump says outside the courtroom.
Trump's lawyer, Christopher Kise, applauded the temporary stay as the "right decision."
Friedman has "allowed President Trump to take full advantage of his constitutional First Amendment rights to talk about bias in his own trial, what he's seeing and witnessing in his own trial — which, frankly, everyone needs to see," Kise said, according to the AP.
Newsweek has reached out to Kise via email for comment.
Uncommon Knowledge
Newsweek is committed to challenging conventional wisdom and finding connections in the search for common ground.
Newsweek is committed to challenging conventional wisdom and finding connections in the search for common ground.