Representative Marjorie Taylor Greene, a Georgia Republican, reiterated her intention on Sunday to continue efforts to impeach Department of Homeland Security (DHS) Secretary Alejandro Mayorkas for what she called the "failure" of the White House's southern border policies.
As part of the broader Republican Party's repeated claims that President Joe Biden and his administration have mishandled security at the U.S.-Mexico border to a severe degree, Greene has been outspoken in her calls for Mayorkas to be impeached. She has in recent weeks accused him of having "aided and abetted the complete invasion of our country by deliberately flooding our nation with drugs, terrorists, and illegals."
On Monday, the House voted against a resolution put forward by Greene to impeach Mayorkas, 209-201, with eight Republicans joining Democrats in voting against it. In response, the congresswoman expressed outrage at her colleagues who did not vote in favor of the resolution and during a Sunday appearance on Fox News, she affirmed her intention to keep trying and decrying those who voted against the initial attempt as "outrageous."
"We are wondering how many…dead American bodies are going to have to pile up before Republicans in Congress get serious about impeaching Secretary Alejandro Mayorkas," Greene said. "Americans called and called; they flooded those congressmen's offices with phone calls demanding the impeachment of Mayorkas."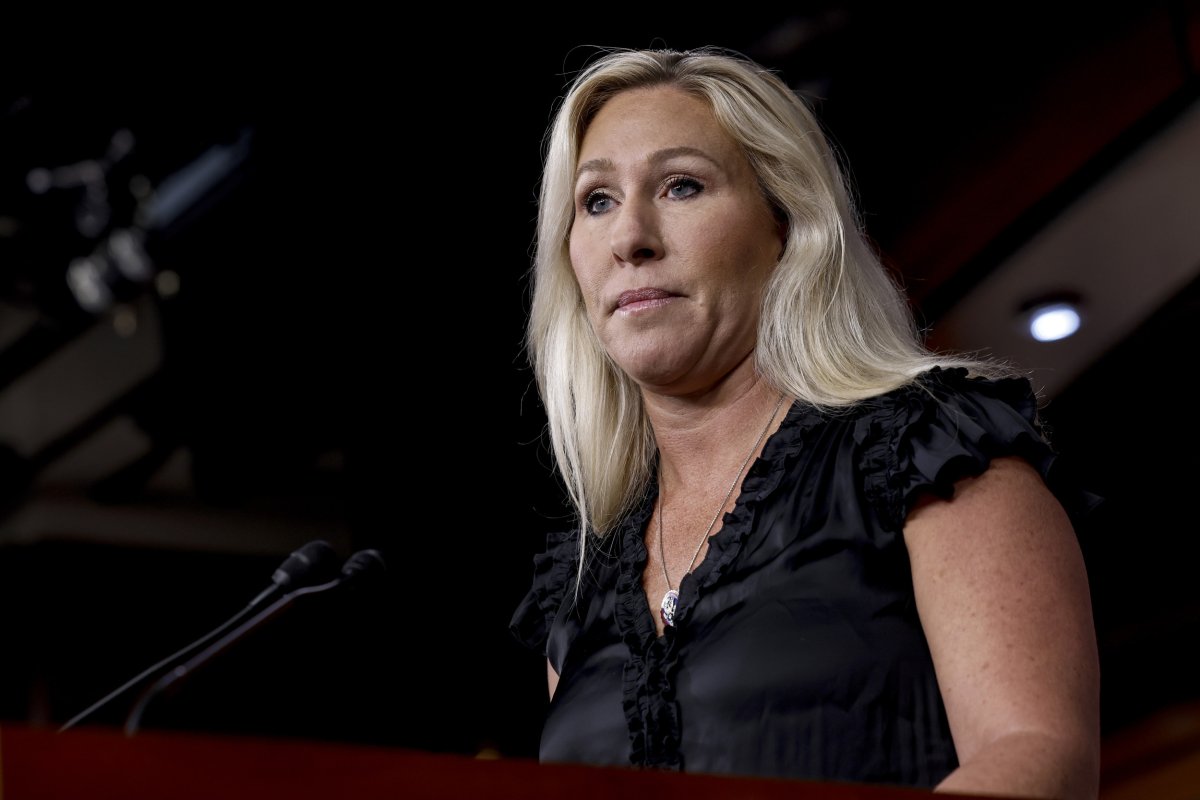 She continued: "I will bring my articles of impeachment back to the floor [of the House] after we get back from the Thanksgiving break, and this time, the Republicans in Congress better deliver different results. Mayorkas must be impeached and the invasion must stop…We have to continue to go after the Biden administration for this failure to protect our country."
The DHS and Mayorkas have consistently pushed back against the characterization of the secretary's job performance amidst efforts to impeach him, releasing a statement to Newsweek on Sunday calling Greene's repeated attacks "completely without merit and a harmful distraction."
"Every day, the men and women of the Department of Homeland Security work tirelessly to keep America safe," the statement from a DHS spokesperson read. "They need Congress to stop wasting time and do its job by reforming our broken immigration system, reauthorizing vital tools for DHS, and passing the Administration's supplemental request to properly resource the Department's critical work to stop fentanyl and further secure our borders. Secretary Mayorkas continues to be laser-focused on the safety and security of our nation. This baseless attack is completely without merit and a harmful distraction from our critical national security priorities."
Greene and other members of the GOP's language surrounding border security issues, including their description of recent migrant influxes as an "invasion," have also been decried as racist and dehumanizing by immigration advocates.
"Rep. Greene's impeachment articles are a dangerous and racist political stunt and should be voted down by all of her colleagues in the House, regardless of their opinions on the policy actions of the Biden administration," Vanessa Cárdenas, executive director of America's Voice, said in a Tuesday statement to the Associated Press.
Updated 11/19/2023, 4:20 p.m. ET: This article was updated to include a statement from the DHS.
Uncommon Knowledge
Newsweek is committed to challenging conventional wisdom and finding connections in the search for common ground.
Newsweek is committed to challenging conventional wisdom and finding connections in the search for common ground.