Former President Donald Trump's reference on Saturday at a rally to an infamous and lewd allegation that was previously made against him has raised eyebrows on social media.
Trump is currently running for the 2024 GOP presidential nomination in his bid to gain a second term in the White House, following his 2020 loss to President Joe Biden. Among the packed field of candidates, the former president has consistently led in the polls by sizeable margins, regularly receiving around 50 percent support from likely Republican voters, despite his mounting criminal charges, which he has maintained his innocence in, and past controversies.
One such controversy was referenced by Trump himself during an aside at a Saturday rally in Fort Dodge, Iowa. Written in 2016, the "Steele Dossier" was a political opposition report created by former British intelligence agent Christopher Steele, for a firm working in conjunction with the Democratic National Convention (DNC) and the presidential campaign of Hillary Clinton, detailing numerous allegations about Russia's interference in the election to benefit Trump. While some of the report's findings have been corroborated over the years, many of its most notable claims have by-and-large been unsubstantiated.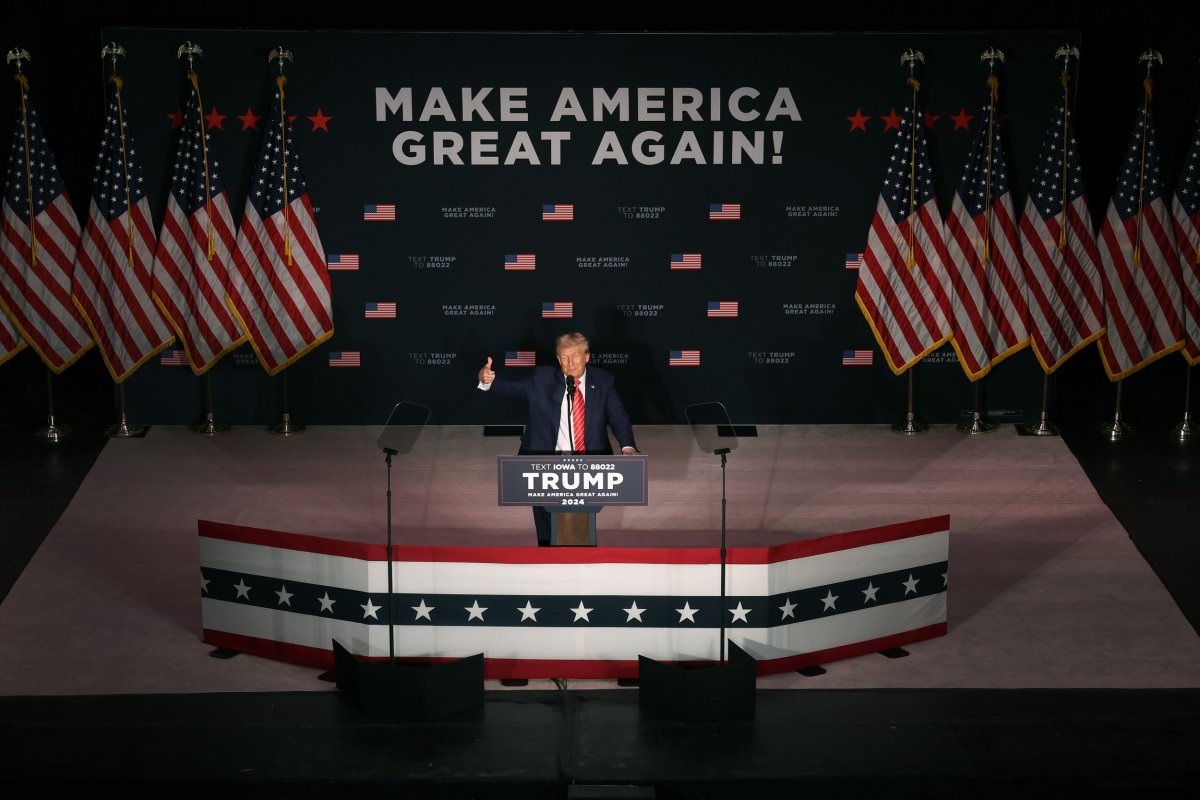 One such claim, the most infamous in the report and one that generated significant mockery and discussion in the early months of Trump's presidency, was that the Russian government retained a recording of the former president paying prostitutes to urinate on a hotel bed in front of him. Trump and his representatives have strongly denied this allegation over the years, and intelligence experts have also largely dismissed its credibility.
Despite generating considerable conversation when the dossier was first publicized, the so-called "golden showers" allegations had largely receded from memory for many, resulting in many raised eyebrows when Trump himself brought up the allegations at his Iowa rally, claiming that his wife, Melania Trump, had dismissed the allegations because he is a "germophobe."
"'He's not into golden showers,' as they say they call them," Trump said. "I don't like that idea."
Newsweek reached out to Trump's office via email for comment.
X Users React
"I mean every time I forget about the golden showers thing for a while Trump reminds me of it which really doesn't make much sense to me but whatever," Ron Filipkowski, a former federal prosecutor and editor-in-chief of the MeidasTouch Network, wrote Saturday in a post to X, the platform previously known as Twitter.
"I always argued for taking the Steele dossier with a lot of skepticism," writer Tom Nichols wrote in his own post. "But five years of denying that you're into golden showers does not really seem like a good way of convincing people you're not into golden showers."
"Ron DeSantis is talking about how he plans to restore America to its former greatness. Trump is talking about golden showers," an X user going by "Florida Conservative" wrote. "I never thought I'd see a presidential candidate stand in front of the world and talk about the act of urinating on someone for sexual gratification."
Uncommon Knowledge
Newsweek is committed to challenging conventional wisdom and finding connections in the search for common ground.
Newsweek is committed to challenging conventional wisdom and finding connections in the search for common ground.