Taylor Swift was not in attendance on Monday when Travis Kelce and the Kansas City Chiefs took on the Philadelphia Eagles.
Still, anyone hoping to see Kelce and Swift at the stadium together got their wish if they were watching the Eagles walk out of their tunnel prior to the game. They just had to settle for Taylor's Boyfriend's Brother and a fourth-year running back.
In a funny nod to his brother's high-profile relationship, Jason Kelce walked out of the tunnel with D'Andre Swift, both looking very nonchalant even though it's hard to imagine they didn't know precisely what they were doing.
The Kelce brothers have a knack for going viral.
Travis, of course, is dating Taylor Swift, which invites plenty of scrutiny on its own.
But the brothers have also mastered other ways to maximize the spotlight. On a recent episode of their New Heights podcast before their respective bye weeks, they saved Travis' hints about visiting Swift in Argentina for the ad break, thereby ensuring that as many people as possible would hear about SeatGeek.
Prior to Monday's game, Travis Kelce dropped by the Monday Night Football set for an impromptu interaction with Scott Van Pelt and the rest of the crew. Jason Kelce, meanwhile, helped host the Thursday Night Football game during his bye week and was filmed ordering, eating and trading insults at a hot dog restaurant known for roasting its customers.
Jason Kelce and D'Andre Swift also impressed viewers during the actual game. First, Kelce waved off a play from the line of scrimmage and made a nice play blocking for Jalen Hurts, who picked up a solid gain.
The sequence left Troy Aikman chuckling, since it wasn't actually clear if Kelce was instructing the team which direction to go or if he was trying to double-cross the defense by pointing in the actual direction of the play.
"I don't know if it was a ploy or if it actually was happening that way, but it was a designed keeper," Aikman said. "[Kelce] ends up being the guy who makes a big block there on Willie Gay."
Later, Kelce snapped the ball, sprinted ahead of the play and flattened a Chiefs defender, allowing Swift to pick up a big gain and a first down.
Then, in the second half, Swift navigated his way through a thicket of Chiefs defenders for a 35-yard run that set up a touchdown shortly afterward.
The Kelce-Swift storyline seems to have some staying power, even when the first names change.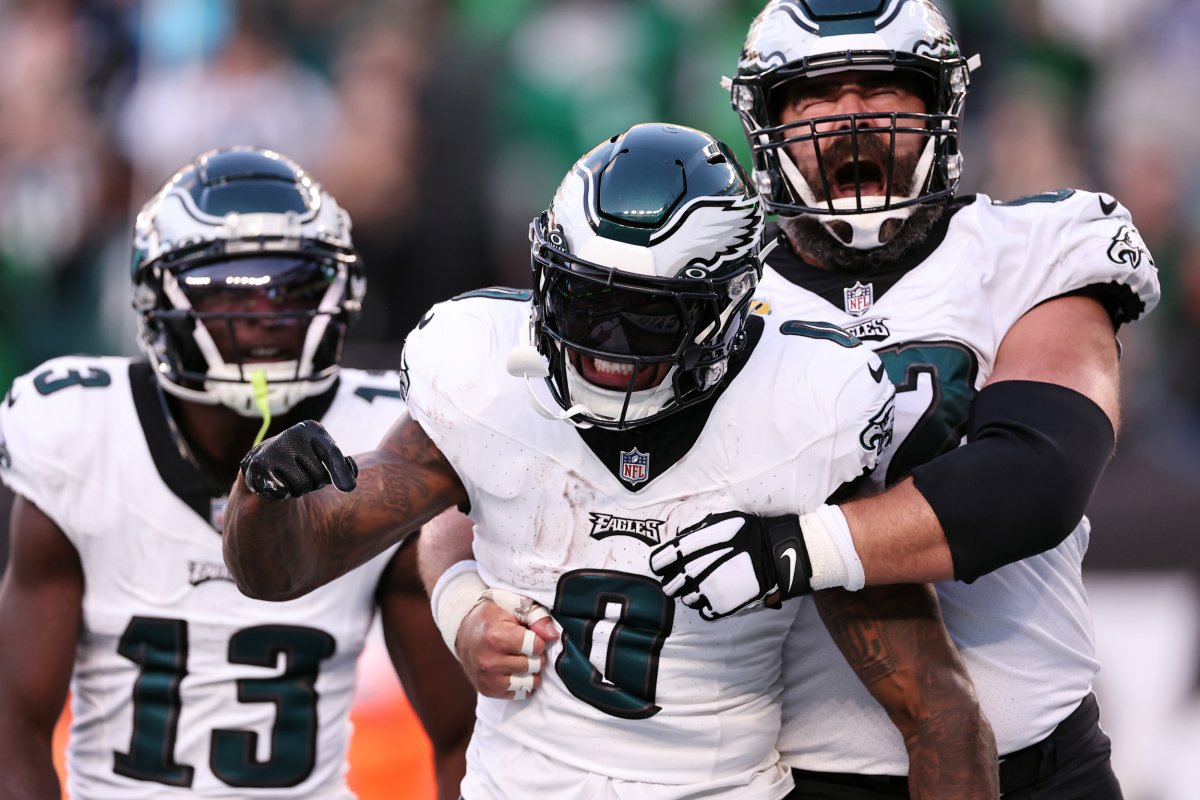 Uncommon Knowledge
Newsweek is committed to challenging conventional wisdom and finding connections in the search for common ground.
Newsweek is committed to challenging conventional wisdom and finding connections in the search for common ground.