This Thanksgiving, Set a Seat at Your Table for Avigail, the Youngest American Held Hostage in Gaza
Last week, President Biden discussed the plight of Avigail Idan, a three year old hostage taken by Hamas during the massacre on October 7. On a call with Qatar's Emir about a potential negotiated hostage release, the President disclosed that Idan is the youngest American hostage being held in Gaza.
Avigail Idan's story is an absolute heartbreak. On the morning of October 7, Avigail's father, Roye Idan, was one of the first Israelis to notice what was taking place. A photographer from Kfar Aza, Roye ran outside early Saturday morning to capture the first images of Hamas terrorists flying through the skies over the kibbutz on hang-gliders. When he realized the seriousness of the situation, Roye ran home, where terrorists had already killed his wife, Smadar. Roye was shot dead moments later just outside of their home.
Two of Smadar and Roye's children, Michael and Amalya, watched their father die. They ran back inside the house and hid with their mother's body for 14 hours, staying on the phone with emergency services until they arrived. But little Avigail ran to family friends in a nearby home, covered in her father's blood. On the way, she was discovered by Avihai Brodutch, who was outside his own home trying to protect his family. Avihai put Amalya in his family's safe room with his wife Hagar and three children and went to fight the terrorists, but when he returned, his wife, his children, and Avigail were gone.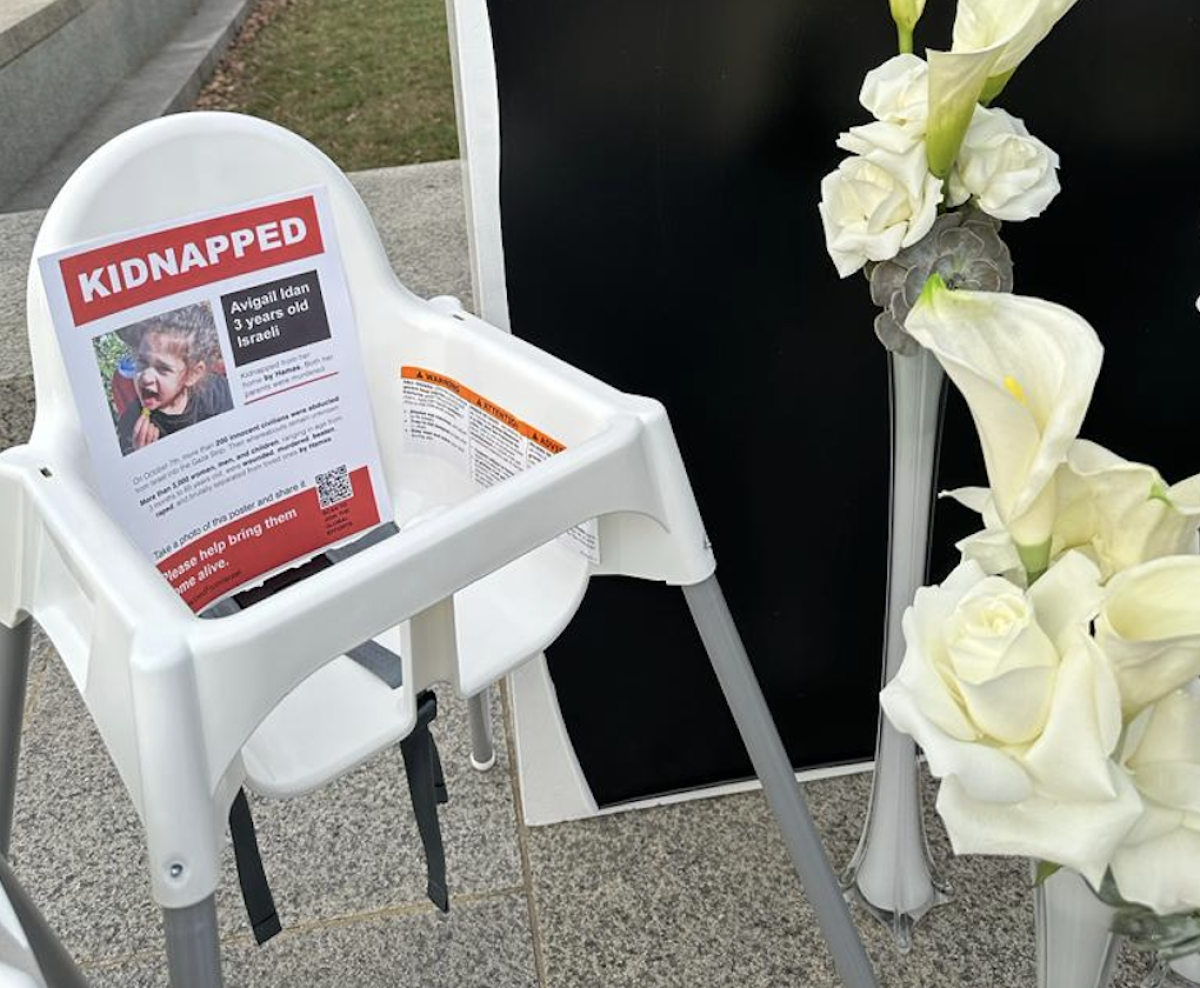 Smadar was an American citizen, as is Avigail, making her the youngest American being held captive in Gaza.
Dozens of Americans killed, injured, and kidnapped by Hamas terrorists on October 7, among the 1,200 Israelis murdered and 238 taken captive.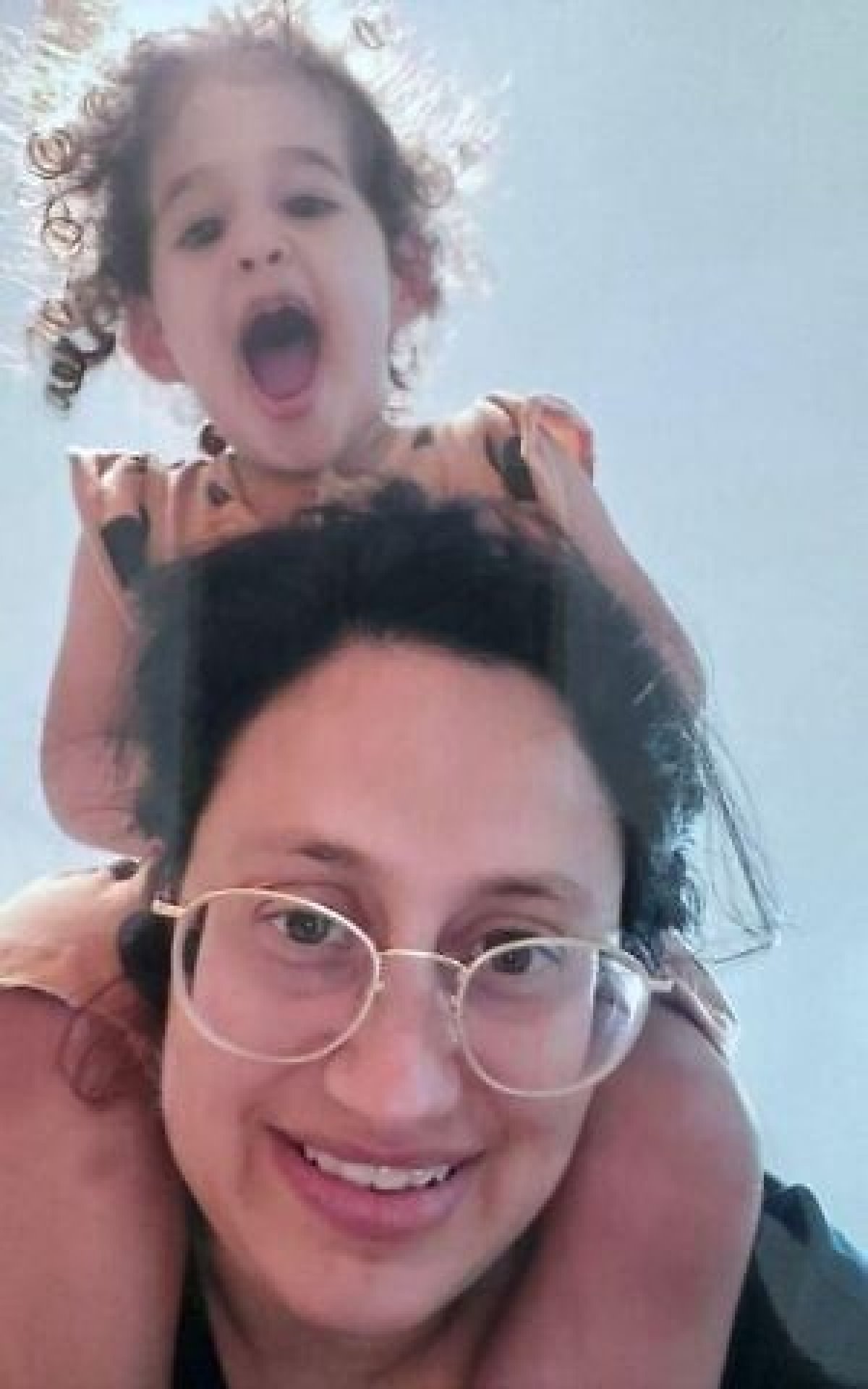 This week, most American families are setting festive holiday tables in honor of the Thanksgiving holiday. But for Americans with loved ones being held hostage, this Thanksgiving holiday is going to be unspeakably difficult.
Avigail Idan's family have buried her parents and are anxiously awaiting any word or update on her condition. Since they were kidnapped from Kfar Aza over 45 days ago, there has been no contact whatsoever with anyone about whether they're still alive, nor is there any way of knowing if or when they may return home. The family's torment is simply unimaginable.
Every Passover, Jews set an extra cup of wine on the dinner table and open the door for the prophet Elijah, hoping he will enter. Elijah is an evolving symbol of hope and redemption in Judaism, shifting in significance over the centuries and manifesting in countless stories throughout Jewish history.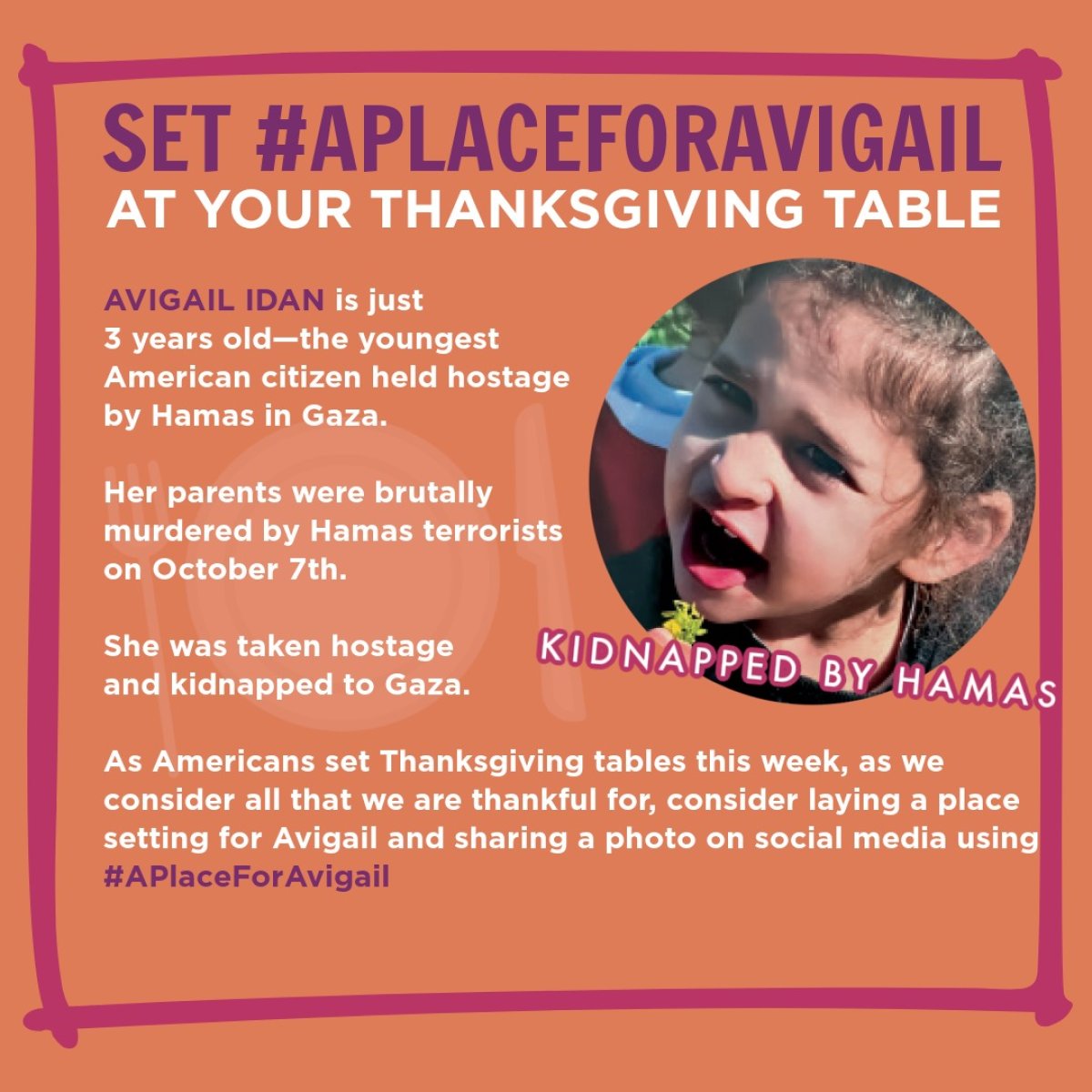 As Americans set their Thanksgiving tables this week, as we consider all that we are thankful for, millions of us will pray for peace in Israel and Gaza, and say a prayer of thanks that our families were able to join together in fellowship.
But as you set your own holiday table, consider setting a place setting aside for Avigail Idan and sharing it on social media with the hashtag #APlaceForAvigail.
Consider printing out a photo or missing poster of Avigail and sharing her story in the hopes that this is the last holiday she spends away from her family.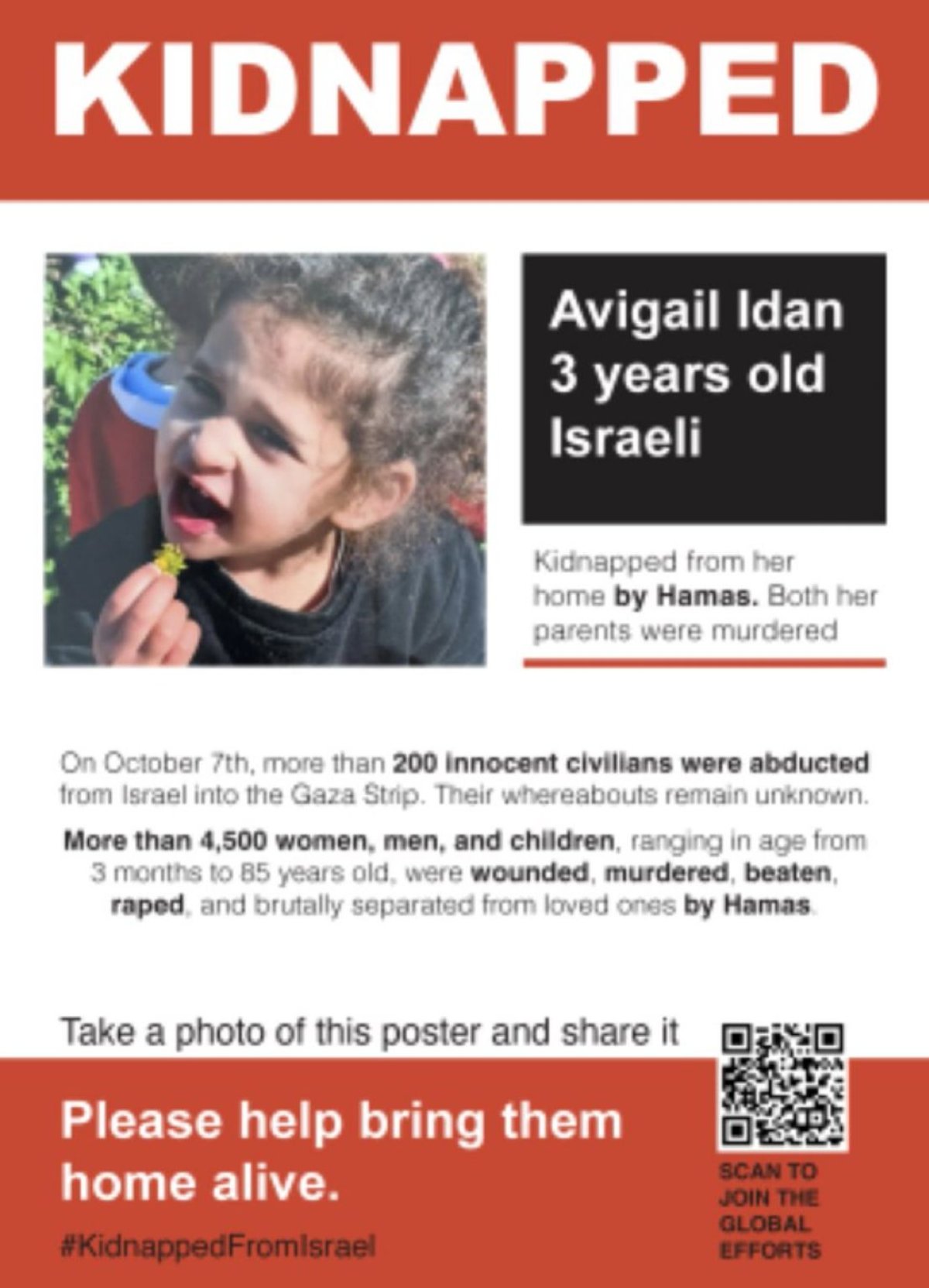 Avigail's individual story is one that must be shared with Americans; this orphaned girl is truly one of ours.
But Avigail Idan also represents the hope that the families of all hostages feel about the safe return of their loved ones. Like Elijah's return on Passover signals the coming of days of peace and redemption, so too should the return of the hostages be redemptive for the millions of us who have come to love and pray for their safe return.
Bethany Mandel is a columnist, political commentator and co-author of Stolen Youth: How Radicals Are Erasing Innocence and Indoctrinating a Generation. You can follow her on Twitter at @bethanyshondark.
All views expressed in this article are the author's own.
Uncommon Knowledge
Newsweek is committed to challenging conventional wisdom and finding connections in the search for common ground.
Newsweek is committed to challenging conventional wisdom and finding connections in the search for common ground.